Rainbow Bridge
Click a letter to find an animal or
view all
.
Barney Dec 2014
Barney came into our lives in November 2014, when someone found him running loose with no tags in the town of Linden, and dropped him off with Black and Tan Coonhound Rescue. From there, he found his way to GGBR. Through Barney's microchip, we were able to contact his original owner, who said he had purchased Barney as a puppy in 2005, but had rehomed him years ago. After 30 days, when no one came forward to claim Barney, he became our foster dog and was made available for adoption. Barney was happy, friendly, good with our cats and, for the most part, good with other dogs. He was happiest, though, when our other dogs were away and he didn't have to contend with canine housemates encroaching on his space. For that reason, we had hoped to find him a home, where he could be an only dog. Sadly, in April 2015, Barney was diagnosed with lymphoma, which changed his status from "adoptable" to "hospice". In May, shortly after his cancer diagnosis, Barney attended Spring Fling. I think Barney had more fun there than anyone! It was so wonderful to see him thoroughly enjoying the crowd of people and dogs! Barney lived out his remaining months feeling okay and eating well, but gradually becoming weaker. Last week, his appetite and strength were gone. Barney had so many fans. We don't know how many homes Barney had in his 10 years, but we were happy to have provided his last home. Rest in peace, little buddy.—Fran and Mark Madden, Billy and Bob. August 2015.
Bella
We adopted our Bella (aka Daisy) in August of 2011 from Golden Gate Basset Rescue. We did not know much about Basset Hounds, as our last dog, Louie, was a Beagle. We did know that we loved the hound dogs. Within days we were in love with Bella (pronounced Bay-yuh) and the breed. Bella was the love of our lives and brought joy to us every day. No way could you be down or sad with Bella in your life. She gave us as much love as we gave her and then some. She had the perfect amount of goofiness, sweetness, and attitude. In January of 2021, Bella was diagnosed with an enlarged heart. By early April she was struggling again, so we added another medicine. On April 11, 2021 Bella's heart stopped. She passed away in her mom's arms on the way to the emergency vet, surrounded by her family petting her and telling her how much we love her. She took a huge piece of our hearts with her that day. On the way home from the vet, we saw a tiny rainbow in the sky; Bella was telling us she was happy and on her way over the rainbow bridge. We miss our baby girl every day and are so blessed to have had her in our lives for the past 10 years. She was special! Look for a picture of our beautiful Bella in the 2021 Golden Gate Basset Rescue calendar on September 6th! We wish more than anything that she could have made it to her calendar day, but we're grateful to have had her for as long as we did. Thank you to Golden Gate Basset Rescue for saving her life over 10 years ago and bringing her into ours. We will love and miss her forever. Until we meet again over the rainbow bridge!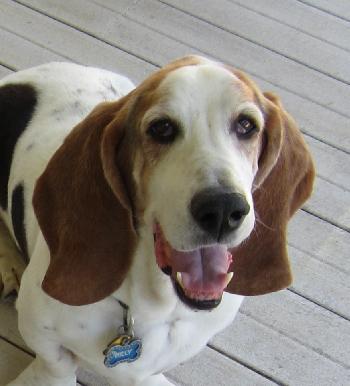 Billy
Back in August 2010, Billy was only supposed to be a quick pickup and drop off. He was probably about 7 years old then, and was surrendered by his owner to the Stockton shelter. I was supposed to pick him up from the shelter, keep him over the weekend, and then deliver him to his foster home on Sunday. Well, Billy charmed us from the get-go. He immediately got along perfectly with our older bassets, Jackie and Kirby, and our cats. By the end of the weekend, we knew that Billy was ours. Yes, Billy was noisy. He also loved to get up on the highest perch he could find. It could be the kitchen table, (if we neglected to push our chairs in), or the top of a crate, or even the top of a stucco wall, requiring ascent of a couple of smaller objects to reach his goal. He also loved to run off, laughing at us, who were trying to catch him. It wasn't that he especially wanted to escape; he just wanted the adventure. We always knew we had to be vigilant about keeping Billy secure. Aside from all that, Billy had the most pleasant and happy personality of any dog, anywhere. He was always good-natured and never grumpy. Billy liked everybody, human, canine, or feline. When Kirby passed away just a few weeks after Billy's arrival, Billy filled Kirby's shoes, almost seamlessly. It was as though it had all been planned. When we adopted 10-year-old basset Riley in October 2010, he and Billy instantly became best of buddies. They spent almost four years together as brothers and best friends. Billy was very saddened, when Riley died in 2014, but he welcomed new brother, Bob. Billy was never as close to Bob as he had been to Riley, but he and Bob were good company for each other, as the two of them went through their old age issues together, during the next few years. In his 7 years with us, Billy shared his home with adopted "siblings" Kirby, Jackie, Riley, Bob and Jerry (fka Frank), as well as foster siblings Dora, Daisy, Jerry (2011), Darlene, Isabella, Sam, Roy, Beau, Abby, Cokie, Roxie, Neil, George, Emma Jean, Barney, Mabel, and Kathy. Billy left us at the end of May 2017. Mark's impression of Billy, on that weekend, back in August 2010, was that Billy was "a keeper". Billy was that, and so much more. His unique voice could be annoying, but he was never out-of-sorts. He was just a happy guy, loving life--a very lovable and memorable dog. Fran and Mark Madden, Bob and Jerry, May 30, 2017
Bob
Bob came from the Sacramento County shelter in 2012 and was in foster care for two years, in at least 6 different homes, before coming to live with us in February 2014. We had just lost our beloved dog, Riley and our remaining basset, Billy seemed to really miss having a buddy, so we met Bob and decided to adopt him. Bob immediately got along with Billy and our cats. Bob came with a vet record dozens of pages long, from his years in foster care. He had a history of a heart murmur and occasional seizures. He had a congenital back deformity that made it impossible for him to lift his head up and gave him a perpetual submissive look. We quickly discovered that he had anxiety attacks, usually at night, which could be triggered by thunder, another dog coughing, or nothing, as far as we could tell. In spite of his long medical chart, in his 4 years with us, we witnessed only a few seizures, which lasted only a minute or two, and our veterinarian never detected his heart murmur, so neither of those conditions required any medication or treatment. In his last years, Bob was incontinent, which required management, but he never lost his good nature. Bob and Billy were good companions for each other, as they went through their old age infirmities together. Billy left us in May 2017, and Bob left us in January 2018, almost exactly 4 years from when we adopted him. The photo is of Bob at Spring Fling 2017 when he found a cozy bed in a bin of outdated "Waddle" T-shirts. Rest in peace, little Bobby. Billy is waiting at The Bridge for you.---Fran and Mark Madden, Jerry and Chuck (January 2018)
Buddy Cobb
We had to say good-bye to our dear and faithful friend and companion Buddy today. Your huge personality will be missed and our house will be so quiet without you. We are always so sad when we hear of someone dying of cancer. Well it affects our good and faithful animals as well. We loved you over these past 8 years, Buddy. You left us too suddenly. Rest peacefully.
Click a letter to find an animal or
view all
.