Animal Success Stories
We welcome updates on the hounds we have placed... if you have a story to tell, please send it to Addy Dawes, ggbassetlovr@hotmail.com, with photos if possible, and we'll feature it here.
Click a letter to find an animal or
view all
.
Bo
BO'S STORY I PICKED BO UP FROM THE KING FAMILY IN MODESTO FOSTERED HIM FOR EIGHT WEEKS AND ADOPTED HIM IN SEPTEMBER 2014. HE A BASSET THAT IS TALLER THEN AN AVERAGE BASSET. HE IS SCARED OF EVERYTHING. BUT IS GETTING BETTER. HE GETS ALONG WITH OUR OTHER BASSET WHICH IS DISABLED. BO RUNS AND JUMPS AROUND THE HOUSE A VERY INTELLIGENT HOUND. HE HAD TO OVERCOME A LOT OF FEAR, NOISE'S FROM A CLOCK AND FROM AIRPLANES THAT FLY OVER. BO IS ADAPTING VERY WELL, AND IS WELL LOVED. IT WILL BE WHILE TILL HE OVER COMES ALL FEARS. HE IS A WELL BEHAVED BASSET,AND HE IS A WELCOME MEMBER TO OUR FAMILY. WE LOST DAISY JULY 3, 2014. THANKS TO THE GOLDEN GATE BASSET RESCUE WE NOW HAVE BO. THANKS MICHAEL AND JEAN PORRAZZO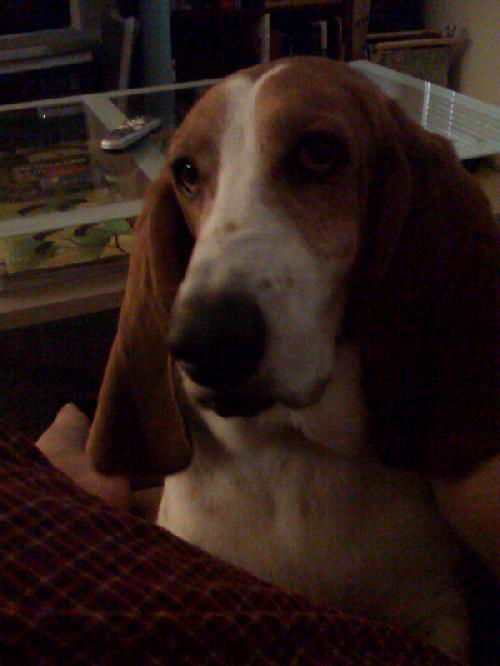 Bandit
- We wanted to get another hound because of Scout, our hound. She has been a joy to have in our lives for the past 6+ years. But, Shawn (my husband) and I thought she might be more content to spend time with a playmate when we're not able to be around (or even when we are!). We love everything about basset hounds - the features, the personalities, and their expressive qualities. - We chose rescue because we didn't want to get a puppy and we didn't think it was right to get a new dog from a breeder when there are so many dogs that need homes in rescue organizations. - I found Bandit along with Churchill on a pet adoption website with a link to GGBR's website. I immediately thought that both of them were adorable. Gloria recommended Bandit after hearing about our lifestyle and Scout's energy level. She is a pretty active girl and we like to go on about five daily walks. So I think Gloria thought Bandit would be a good fit for us since he is younger and more active. - We, including Scout, went to visit Bandit at his foster home with Jennifer Hanson in Roseville. Overall, it went well. Bandit was friendly, well behaved, and so cute that we knew we wanted to adopt him. He was very friendly towards Scout - the usual sniffing and circling happened. And Bandit made several attempts to play with her, but she didn't know what to do with him since she had never really played before. After that visit we contacted Gloria to set up the adoption for Sunday, March 9th, 2008, the weekend we were moving from Oakland to Walnut Creek. We knew this was going to be a big weekend and we were worried that we would be overwhelmed, but it turned out just fine. We successfully finished moving in and drove to meet Jennifer's husband to sign papers and pick up Bandit. It went well - Bandit is so easygoing. He said bye and hopped right into our truck. When we got home to Walnut Creek we brought Scout out and they took a walk together. They greeted each other with sniffs and it seemed like they immediately started walking side by side - their own little pack. From then on it has been pretty easy. From the first day Bandit and Scout have had very little trouble getting along. And now, Bandit has taught her how to play, which we are so excited about. Bandit settled in fairly quickly. He walks around like he's been with us forever and is particularly attached to Shawn. He and Scout trade beds on almost a daily basis and there haven't been any fights between the two of them. As I said before, Bandit is very easygoing. He knows his name, he responds when called and can sit on command. He's great on leash and we'd like to teach him some new commands as he's so easy to teach as long as there is food around. Bandit is quite fond of our socks and is extremely quiet and sneaky when he is trying to get something he knows he shouldn't have. We wouldn't trade Bandit for any other dog in the world. Sometimes he makes us groan (like when he wakes us up at 2:30 am to go to the bathroom), he makes us laugh in delight and disbelief (like when he decides to take out pieces of tissue from the bathroom trashcan and drop them in a trail to his bed), but mostly he makes us smile. Sad update - Bandit passed away Christmas 2013 from liver cancer. Condolences to the great family who treated him as a son/grandson and gave him a wonderful almost six years of happiness!
Brody
Brody, came home with us in mid August to Little River Ca. Him and Bailey got along right away and started to take over the Airport were they both go to work each day. At first things seemed to go well, but then he started to act up ( believe that he had a very bad time somewhere in his life) I was not able to get him to not try to snap at me or other people that would come to the Airport. But with some teaching on his part and watching what set him off sometimes and not other, we all learned a lot. He is such a great looking dog and has a good personally so everyone want to see and play with him. So I felt that he would find his place at his new home, some day not as fast as I would have liked, but in his time he is teaching us what he needs to make him feel safe in his new home. Where he will be loved and part of his new home. Today he has found his forever home and just makes everyone happy. Dave
Boe (and Alexis)
We had lost our two bassets Jonesy & Blue, who were littermates, when they were 6-1/2 and 11-1/2 years respectively. We were not ready to have bassets yet, but my husband knew that we would be someday. And we knew that when we were ready, we wanted to have two again -- they're such good company for each other. Boe (rhymes with Joe) & Alexis arrived at the animal shelter separately as strays but quickly bonded so GGBR hoped that they could be placed together. I learned of them through Gwen & the Daily Drool in a conversation about glaucoma. They had been with their foster mom for about six months. We had been told that Alexis could be stand-offish with men and that Boe was a big lovable guy who loves food. These two both warmed up to us immediately and we knew we not going to be basset-less any longer! They have quickly taken over our hearts and home. By the way, we got them on Mother's Day and they are both definitely my dogs. My shadow has a name and that is Boe! They love Steve, but you can tell by their actions, they know whose bassets they are! Thank you GGBR for allowing Boe & Alexis to become a part of our family!!! They have been such a wonderful addition and we love them so much. Susan Tonjes
Beau (4/11)
We've had Beau for about three months, and we can't imagine a life without him! He adjusted very well to his new home, he especially loves his big backyard where he can lay for hours and soak up the morning sun. This is our first basset, and he is everything and more than what we expected. His favorite activities include long walks and adventures, sleeping, eating (we learned this little boy cannot be in the pantry unattended), people watching, hunting, and cuddling. He is unbelievably loving and affectionate, and craves human attention around the clock. Lucky for him, he is very spoiled and found out early on that all it takes is one look at those sad eyes and he can melt anyone's heart. He can be slightly stubborn and strong willed at times, but we think these qualities are cute also. He had some issues with marking indoors when we got him, fortunately that habit has been broken although the training is ongoing. He also had some intestinal issues at first, which have greatly improved. He is a healthy and happy hound, and watching him run and jump with those flopping ears brings much joy! We just adore Beau and feel so lucky to be his forever home. Liz
Click a letter to find an animal or
view all
.