Rainbow Bridge
Click a letter to find an animal or
view all
.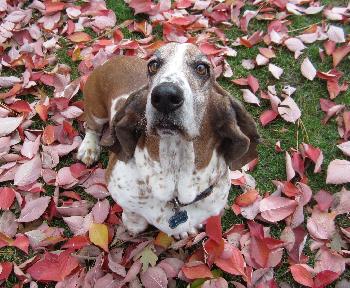 Jerry
"Hellooo, Jerry". Jerry, whose shelter name was Frank, came from the Sacramento County shelter in March, 2016. He was another of our "foster failures". The shelter guessed his age at "6", but from the looks of him, he could have been older. His coat was a beautiful and somewhat unusual color of red-brown, almost liver, with white and lots of brown freckles. He was quite thin, his face was already grey and showed hints of black markings that had faded to brown. He had a big chunk missing from his left ear and both ears were thickened and showed signs of having had hematomas, at one time. As I put Jerry into the car to drive him home, I looked at his left ear with the missing piece and said, "I sure hope you're not a scrapper!" Jerry wasn't a scrapper, although he was set in his ways and let other dogs know, if he wanted his space. He was generally good natured. At the time of Jerry's arrival, we had bassets, Billy and Bob, both of whom were getting on in years. For some reason, Jerry never wanted Billy near his bed, but he tolerated Bob. Our black cat, Earl loved Jerry. Jerry was friendly and playful with people, but in all the years we had him, I never saw him play with another dog. After Billy and Bob passed away, we adopted Chuck, the bassador, in March 2018. Jerry and Chuck shared the responsibility of racing across the lawn to bark at the neighbor on his quad vehicle, or at the neighbor's chocolate Lab, through the fence. Jerry was a watch dog and took his job seriously. He would sit at the top of the slope where he could watch the neighbor's yard and bark idly, in their direction, off and on, all day. Jerry went tent camping with me only once. He was too much of a watch dog to be very welcome in a public campground. He was a funny old fellow with a mind of his own. Jerry outlived Chuck and was with us to welcome 14-year-old Skippy in July 2021. Jerry left us on March 12, 2022. Fran and Mark Madden, and Skippy
Chuck
Chuck, the Bassador. He was a Lab. He was a Basset. He was the best of both! His good looks turned heads wherever he went. I saw Chuck posted by the Placer County Shelter in March, 2018 and knew that, even though he was not a purebred basset hound, GGBR needed to rescue that happy, handsome fellow. We don't know Chuck's age, as is pretty usual for rescued dogs, but his microchip records led to a previous shelter stay, a year or so earlier. Chuck had a bladder stone when he arrived, but after that was removed, he enjoyed good health for the next 3 years. He and our basset, Jerry were "brothers", although that required some patience on the part of Chuck, as Jerry is pretty much set in his ways. Chuck was my camping dog. He was quiet and friendly and was my dog of choice for GGBR camping trips. Chuck left us in October 2021 after a splenectomy and a subsequent diagnosis of hemangiosarcoma. He was a calm, gentle, uniquely beautiful dog and such a joy. He is very much missed. Fran and Mark Madden and bassets, Jerry and Skippy, October 2021.
Bella
We adopted our Bella (aka Daisy) in August of 2011 from Golden Gate Basset Rescue. We did not know much about Basset Hounds, as our last dog, Louie, was a Beagle. We did know that we loved the hound dogs. Within days we were in love with Bella (pronounced Bay-yuh) and the breed. Bella was the love of our lives and brought joy to us every day. No way could you be down or sad with Bella in your life. She gave us as much love as we gave her and then some. She had the perfect amount of goofiness, sweetness, and attitude. In January of 2021, Bella was diagnosed with an enlarged heart. By early April she was struggling again, so we added another medicine. On April 11, 2021 Bella's heart stopped. She passed away in her mom's arms on the way to the emergency vet, surrounded by her family petting her and telling her how much we love her. She took a huge piece of our hearts with her that day. On the way home from the vet, we saw a tiny rainbow in the sky; Bella was telling us she was happy and on her way over the rainbow bridge. We miss our baby girl every day and are so blessed to have had her in our lives for the past 10 years. She was special! Look for a picture of our beautiful Bella in the 2021 Golden Gate Basset Rescue calendar on September 6th! We wish more than anything that she could have made it to her calendar day, but we're grateful to have had her for as long as we did. Thank you to Golden Gate Basset Rescue for saving her life over 10 years ago and bringing her into ours. We will love and miss her forever. Until we meet again over the rainbow bridge!
Seymour (aka Hector)
Seymour, aka Seymour Butts, aka Sergeant Spicy Weiner was adopted in July 2008 from Golden Gate Basset Rescue. We guessed he was around a year old, and he quickly gained weight and stole our hearts. He was svelte, funny, and loved to paw at the springy dog stoppers and bark at them. As a pup he would zoom around the living room, up the stairs, jump on our bed, and zoom back down again. He loved to chase the big dogs around the dog park, and would bark at them because his short legs couldn't keep up. He was usually obedient, except that one time we let him and Cassie (another GGBR rescue) off leash at a deserted beach, where they took off and we had to run after them for half a mile! Seymour was exceptionally patient and put up with wearing Halloween costumes. His pirate costume won him a year's worth of pet food! He learned to shake, and play dead, though it was usually a very slow lay down and eventual roll to the side. His bark was deep and commanding, though we never once heard him howl. He loved to steal Rob's socks and bury them in backyard for safe keeping. He chewed on stuffed animals, popped bubble wrap, and removed caps from plastic bottles. He ripped apart a plush octopus and pooped out a few 8" long tentacles! Likes include peanut butter, Costco rotisserie chicken, socks, chicken poo, and cat puke. Disliked baths (but loved getting towel dried), but not much else. He was so easy going and a wonderful dog. I loved his floppy ears and jowls, deep brown eyes, jelly chest, and butt whorls. Our beloved Seymour crossed over the rainbow bridge on 4/20/21. We are so lucky to have had him in our lives for the past 13 yrs. He was such a sweet little man, and we miss him so much.
Walter
Walter came to us, along with another basset named Sebastian, on January 15, 2010 at age two. A few weeks later another basset named Nikko came and the three were inseparable. He was rambunctious, full of life, and a mischievous little one. He was also quite the charmer, always making sure he gets the attention along with an armpit scratch when anyone acknowledges him. He loved to play and always initiated play time with the other boys, when they were not taking naps. When he was not playing, he was getting in trouble by capturing a mouse, figuring out what to do with it, and in a blink of an eye the mouse would take a leap of faith from the inside his paws and lived another day. After all his friends crossed the Rainbow Bridge, we became his pack for four and a half years. We were it. We ate together, played, relaxed, and enjoyed the warm summer days together. He loved cheese, teddy grahams, cheerios, dental sticks, almonds, and most of all he loved pizza. He always knew when it was pizza night, he can smell that dough rising throughout the day and looked forward to his piece of the pie. As he aged, his back legs and hips gave him trouble and going up and down the stairs became a challenge. Papa picked him up and brought him down every day, once we saw he was no longer able to hop willingly. On February 12, 2021 we made a heart wrenching call to finally let him rest and cross the bridge to join his friends. It was time, we were ready and I think he was too. It was not easy. No matter how much trouble they give us, no matter how much they love us one minute and want to bite our faces off the next, at the end of the ordeal they are still family. Walter made us laugh and gave us great memories to carry us through our days and we will forever keep him in our hearts. 'till we meet again my baby Walda. Love, Mama, Papa, and Christian.
Click a letter to find an animal or
view all
.