Rainbow Bridge
Click a letter to find an animal or
view all
.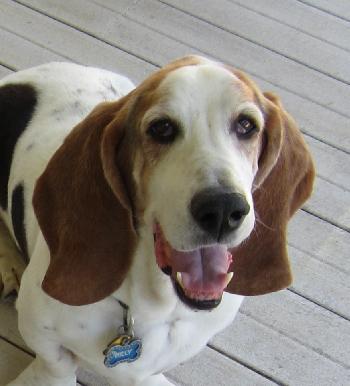 Billy
Back in August 2010, Billy was only supposed to be a quick pickup and drop off. He was probably about 7 years old then, and was surrendered by his owner to the Stockton shelter. I was supposed to pick him up from the shelter, keep him over the weekend, and then deliver him to his foster home on Sunday. Well, Billy charmed us from the get-go. He immediately got along perfectly with our older bassets, Jackie and Kirby, and our cats. By the end of the weekend, we knew that Billy was ours. Yes, Billy was noisy. He also loved to get up on the highest perch he could find. It could be the kitchen table, (if we neglected to push our chairs in), or the top of a crate, or even the top of a stucco wall, requiring ascent of a couple of smaller objects to reach his goal. He also loved to run off, laughing at us, who were trying to catch him. It wasn't that he especially wanted to escape; he just wanted the adventure. We always knew we had to be vigilant about keeping Billy secure. Aside from all that, Billy had the most pleasant and happy personality of any dog, anywhere. He was always good-natured and never grumpy. Billy liked everybody, human, canine, or feline. When Kirby passed away just a few weeks after Billy's arrival, Billy filled Kirby's shoes, almost seamlessly. It was as though it had all been planned. When we adopted 10-year-old basset Riley in October 2010, he and Billy instantly became best of buddies. They spent almost four years together as brothers and best friends. Billy was very saddened, when Riley died in 2014, but he welcomed new brother, Bob. Billy was never as close to Bob as he had been to Riley, but he and Bob were good company for each other, as the two of them went through their old age issues together, during the next few years. In his 7 years with us, Billy shared his home with adopted "siblings" Kirby, Jackie, Riley, Bob and Jerry (fka Frank), as well as foster siblings Dora, Daisy, Jerry (2011), Darlene, Isabella, Sam, Roy, Beau, Abby, Cokie, Roxie, Neil, George, Emma Jean, Barney, Mabel, and Kathy. Billy left us at the end of May 2017. Mark's impression of Billy, on that weekend, back in August 2010, was that Billy was "a keeper". Billy was that, and so much more. His unique voice could be annoying, but he was never out-of-sorts. He was just a happy guy, loving life--a very lovable and memorable dog. Fran and Mark Madden, Bob and Jerry, May 30, 2017
Earl
Very sorry to report that Earl, our beloved Basset hound and GGBR alumnus, passed away peacefully at home after a long battle with cancer. Earl was born and raised on an airforce base in Georgia, and later transferred to California. After serving his country, he lived the high life in a Los Altos Hills mansion before arriving at GGBR. He was then fostered for a year in Roseville, before we adopted him three years ago. With us, he lived the surf life in Santa Cruz, and was a regular at the Dog and Seabright beaches. Then, a year ago, he joined us on our move to Europe, spending a few months living on a farm in rural England, before making his final move up to arctic Norway, where he spent his retirement enjoying the midnight sun, snow, and northern lights. We want to extend our gratitude to the GGBR for bringing Earl into our lives - he was a fantastic dog-friend who brought joy to a great many people and is very sorely missed. RIP buddy, Feb 10, 2004 - Dec 14, 2017. Lots of love, Pete and Chloe.
Mabel Grace
Short and sweet was Mabel; short and sweet was our time together. Two weeks short of a year was all we had together; 351 days for a splash course in Basset Hounds. And, Mabel had a lot to teach me. Mabel taught me that Basset Hounds are irresistible. Living alone I would often talk to Mabel. She would stand close by and wag her tail as I chatted away. One day I thought I saw her nod her head as I was asking if she agreed with me. I nodded my head and said, "Isn't that right, Mabel?" and she nodded her head ever so slightly. I wasn't sure that I had actually seen her do it, so I kept up my dialogue with her and noticed that she did it again! OMG! Mabel actually nodded her head! It was a subtle movement, but during her short time with me, Mabel would always provide her positive encouragement during these one-sided conversations. Mabel taught me just how cute she could be. Mabel taught me not to underestimate her intelligence. She might be slow in body, but not in mind. I believe that Mabel would tell you that I was easy to train. I no longer needed an alarm. Mabel had the uncanny ability to wake me up every day, including weekends, before 5 a.m. She would stand by my bed and talk in a low, husky-voiced huffy-grunt. (I always thought that, if Mabel were a human, she would have a smoky-whiskey sounding voice like Marlena Dietrich). Breakfast was expected by 6 a.m. or she made formal complaints. The complaints came in the form of more huffy-grunts and head butting. On Saturdays and Sundays I complained to Mabel that, someday when she was no longer around, I wouldn't miss her 5 a.m. wake-up calls. Mabel taught me how wrong I can be. Mabel enjoyed a walk, but the number of steps taken was not integral to the quality of a walk. The importance of a walk was the number of scents found and scents savored. Exploration of a 2 foot square area could take 10 minutes and could not be rushed. Mabel taught me that there are many ways to enjoy a walk. Mabel had bunny soft fur, especially on her chest and a little spot behind her ears. Mabel would shed in clumps. I'd never seen a dog shed like Mabel; it was like she molted. Mabel had the most beautiful markings and pretty, dainty feet. Her coloring was like a beautiful piece of oak and she had markings around her eyes that looked like running mascara. Mabel taught me that being irresistible helped mitigate some of the less appealing aspects of hounds. Howling? Mabel never howled. Smell? Controllable with good grooming. And, Mabel felt that a full spa treatment was her God given right. She never fussed when I bathed, brushed, cleaned ears and anal glands. She wasn't too happy with nail clipping and dental hygiene, but took it in stride. Mabel liked to be a well-groomed Basset Hound. Drooling? Not so bad. So many traits are easy to overlook when you are so adorable. She had a lot to teach me. Mabel managed to dig herself deeply into my heart in the 50 weeks that she shared her life with me. Her cancer came back in another form, without revealing itself to me or my vet. On November 5th, I knew something was wrong with Mabel, but I thought it was something to do with the pain of her arthritis or weak hips. I had an appointment scheduled with my vet for Monday and thought I could wait. Mabel taught me that some things just won't wait. Mabel came to me with not much of a back story. She was a stray and only 7 months of her back story was known to GGBR, and even that was limited. Someone gave her guidance and good care sometime during her life because she had beautiful house manners and had a loving, trusting disposition. Mabel was so much of a character - a grand dame and a special treasure, that I gave her a second name "Grace". I've had the good fortune to have had several wonderful dogs in my lifetime, but Mabel Grace was very special and she holds a special place in my heart. Mabel grá mo chroí, (love of my heart), may you rest in peace. I'll never forget you, my darling girl. (Diana Riley)
Buddy Freckles
I wondered if you can post a memorial for my beloved Buddy. Today I will be helping him to the rainbow bridge. His heart is failing & medication is no longer helping. I got him from you guys in 2005. It was honestly one of the best days of my life. I'm so happy I got to be his mom. He was the best dog ever. He had a funny personality, he was always by my side & forever my best friend. Buddy Freckles is my heart. No one has a more beautiful soul than a dog. My family will deeply miss him. -Jessica
Gary
Gary came to us on November 24, 2012 originally as a foster. We took him until Golden Gate Basset Rescue can find him a forever home, it turned out his forever home was with us all along.
He was a very quiet and handsome basset and we fell in love with him immediately. He was very loyal to his humans and was very easy to please. Gary only liked his humans…he did not like having other dogs in the house and clearly he showed his dominance towards his four legged companions. We had issues that we needed to iron out but through trials, failures, and success we managed to figure out what he liked and so did the other bassets in the house.
Clearly, Gary was a very strong willed and regimented dog and he needed a family who can keep his schedule just the way he was used to. During this time, we were in the midst of moving to Kansas and decided to keep him because we know underneath all his issues he is a very good dog; and he truly was.
After four years with us, at the age of 12, Gary was laid to rest on September 9, 2016 in the comfort of his home lying next to me. His mobility and anxiety has taken a toll on him and we knew he will be okay if our vet came to the house to make him forever comfortable. No more thunderstorms to scare him off, no more loud noises and no more pain; he is safe now with his friends at the Rainbow Bridge. Despite his issues and quirkiness, he was a great dog and he truly left a piece of him in our hearts and home. We will miss him so much, he followed me everywhere and kept me company especially in the kitchen.
We will always remember Gary when we hear the rumbles during the summer months in Kansas. We have wonderful memories of him and we will never forget Gary. He is safe now.
With all our love,
Vince, Maria, Christian, and Walter
Click a letter to find an animal or
view all
.